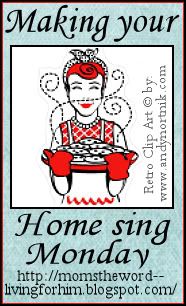 I just love this meme! It is another positive, encouraging meme I have found in the world of blogging. I highly recommend checking out
Nan's
post this week.
Oh My!
THIS JUST IN
: as I was sitting here writing this, my son threw up a penny! That's right, no need to read it again! My son
THREW UP A PENNY
! Praise God it came out. I didn't even know he had one! He is on the floor to my immediate right with his choice of toys
I GAVE
HIM
. We have been exchanging eye contact as I have been sitting here. I even placed head phones on him so he could hear the music on my blog. All of a sudden, he was gagging and spit up a little and out flopped a penny!
A PENNY
! Where in the world did it come from?
That leads me to a great way to make my home sing. How about keeping a better eye on my child and what he has in his hands! By the way, a mouse pad is what is currently in his hands. Wow, someone quick! Nominate me for
mother of the year
!